The Legend of Varin'don
"What do you look for in a story? Action? Drama? Comedy? Some other Genre you like? What about plot twists? If you like all of those this story is for you, but what if I said you are in it? Now what if I also say, You are living it? What would you do then? Well, before I tell you the background of the story, let's go over a some geography. There are six races among the world of
Ageroth
, Humans, like us, we live in a two places, around this valley.
Ferion
, and its brother
Derion
. Then there is the nearby Dragons that take the north part of our world. They fly in the local plains north called the
Dragon Plains
and their city called
Deragoon
. To the East of us is a large forest full of Night Elves. They live in a city called
Zarin
. Just south of us is a mountain, and running along the mountains are stone paved by us over a large river and waterfall. That place is called
Ageroth Gorge
. This Gorge connects to three places. North which would be us, Inside the mountains of the
Blackened Deeps
. Then south is the Korrane Swamps and their city
Korron
. People go to the Gorge mainly for just trade. Inside the Blackened Deeps is the rock beings called the Elemental. They are tough, they can either be regular rock, lava rock, or Ice rock. The regular rock type elemental is found not far into the Deeps. Go forward and there is a spiral mountain cliff swirling along the walls of an abyss inside the mountain that leads down that leads to a deep lava chamber of their city
Saviticus
, or up that leads to the top of the mountain full of ice and their city
Icarius
. Now south into the swamp are sorta fish like creatures, they look like us only with web feet, more fishy characteristic and have about blue-green skin. They are the Trydans. Go through the swamp south enough and you hit a mountain like forest, the forest is cut off a lot by cliffs. There are some floating rocks at the end that house some nomads on top of the rocks called the Lazerians and their city
Palkian
below those rocks. They are lizard man like creatures. They look like us by with lizard looks. There is about 12 elements. Fire, Water, Earth, Air, Electricity, Light, Dark, Ice, Sound, Barrier, Arcane (Anything dealing with your mind, like teleport and what not.), Death (Only used by Varin'don). Now that you know the base of our world, I will tell you the Legend of Varin'don."
Long ago, there was a strange titan that had appeared as if from no where. He had a deep dark voice and was a cyclops, he looked like a human who had tentacles out of his back, and his mouth is four flaps that open and close when he speaks. He had control of magic as if it was just a toy. He had started from the bottom terrorizing the Lazerians, they stood their grounds but tossed like a tooth pick. they fled for help to the Trydans. They stood their ground but no good. The Trydans were territorial so they hated to leave. In the Gorge everyone then begin to hear, and they formed an army against him, with futile efforts. Although one of each of the five races stood tall. Zorak the Trydan, Blake the Human, Korantail the Lazerian,Casona the Night Elf. M'gok, the Elemental. Then Veroth the Dragon. Those six had gone to the deeps trained and faced him on their own and defeated him in the deepest of the deeps, deeper then the lava pits. A place deep that was said that there was a city there. His power was felt long and wide, and the heroes had died and remembered by statues. Little did everyone know, Varin'don is back with vengeance today, growing stronger each day. He is still weakened so he is sending others and minions and monsters such as beasts till he feeds on the worlds magic long enough to destroy our world.
"So I ask you... Come on? don't you guys want adventure? I mean think about it, going through mountains, grassy plains, swamps, fly above mountains, forests, escape lava, endure the harsh cold, and have a good thrill of battle from the millions of beasts terrorizing your town and fighting against a large threat that could very wipe you off the face of the earth? Master up to 3 elements! join friends and take down those in numbers! you can go alone or have friends, it's your choice! Have you no stomach for battle? or the scenery of a River flowing in front of you in the middle of a Gorge. You guys will be missing out for what is in stored for this! Think about it, even for a moment! Picking up your weapon, smell that fresh air, bash in some heads, and explore! use your imagination! make it your dream! You can join the fight against Varin'don or go on your own... on your own adventure! Sign up now and you won't be sorry you did!"
Character Sheet Instructions!
Name: (The name you shall RP as.)
Race: (Are you, Human, Dragon, Lazerian, Trydan, Night Elf, or Elemental*Normal, Ice, or Lava*?)
Abilities: (Do you use magic? Do you use regular weapons? *Max usage of 3 magic properties. Reminder=Fire, Water, Earth, Air, Electricity, Light, Dark, Ice, Sound, Barrier(Kinda like using magic shields that hold off magic and normal attacks), Arcane (Anything dealing with your mind, like teleport and what not.), Death (Only used by Varin'don).
Weapon: (Do you use staffs? how about swords? or any other weapon really.)
Age: (How old are you?)
Personality: (Who are you?)
Appearance: (Written description or Picture.)
Background*: (Not needed, but a written background would be nice.)
Equipment*: (You can start with nothing, in fact you might not ever need any, but this is for those that have other things like a book or something.)
Extras*: (Such as pets, or any other information you have.)
Name: Ateren
Race: Human
Abilities: Inventing, Electricity, and Barrier.
Weapon: A laser gun that can be used well for defense use mainly to help weld his inventions.
Age: 17
Personality: As you can tell hes smart. Very fast learner. Can adapt to any possible problem or way of life. Very calm, never angered except for when his inventions are tampered with. He can pretty much talk his way out of anything.
Appearance: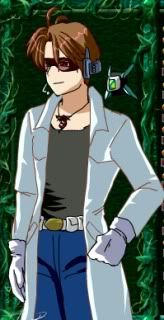 Background: Ateren loved to invent, he even started inventing at a VERY young age. He loved learning from the Lazerians in the Gorge, and the stories of the Trydans. He knew some hand to hand combat from the Elves, but payed little attention when he was inventing.
Equipment: Space Cube that has all my equipment *It holds around 50 items maby a bit more.*
Extras: I have a little bot that follows me, his name is Kent. He is in the pic of me.
•Rules!•
• NO AND I MEAN NO CHOSEN ONES! IT IS HAS GOTTEN OLDER THEN TIME ITSELF!
• No possessed or evil characters without my permission. (And honestly I guarantee 99.9999999999....9! percent Char will attempt to be possessed or have a dark side.*and honestly char, that also is getting old, even though it is your thing, it just gets old to see most of the RPGs you are in has this done*)
• Nothing against forum expectations.
• No killing other players! unless given permission.
• Cursing must be low.
• Keep the content PG13.
• Your post must have at LEAST 2 lines.
• Literacy must be at a rather decent level. (Type out your words!)
Accepted People are listed below! *Points down*:
Using the format of Username/Name/Race.
StupidMarioFanChar/Grace/Human
Pepsi1max/Weiler/Lava Elemental
Linkman444/Mardor/Human
NethaEmerald/Rozark/Dragon
Cap/Ka'ton/Night Elf
Snertz/Kento/Human
MCS/Prewitt Varden/Human
plasticmanticor/Ambellavi Centencid/19/Human
Brandon/Landon/25/Human&Dragon (Yet to discover his dragon form)
Darklink/Flagg/18/Ice Elemental