The pikmin slowly looked up as the golden ship blasted off.
The white, blue, purple, yellow, and red pikmin knew that
the ship would not return in the morning. They rushed to the
onions and took off on their own, not knowing who to follow
into the sky.
It has been six months since that day. The pikmin have asserted
their place in the ecosystem since then; they have become the
dominant specie during the day. All others fall under their superior
numbers. The population has reached ten-thousand and four separate
onions have been created for each color (including white and purple).
Every sunset they lift off, protecting the pikmin inside, and every
morning they land in the next area (clockwise on the map).
They have created a complex tunnel system that is safe during the
night. They can use it to trek to other areas as well as rest and relax
in safety. In each underground room and cave, there are five
condypop buds, one of each color. They've been bred to not wither
after changing the color of pikmin and can be used as many times as
needed. Each tunnel also carries a store of unhardened nectar for
general pikmin consumption.
The pikmin have also built a society. They talk, they laugh, they make
music; they work as a team to accomplish tasks that couldn't be done
alone. The leaf and bud pikmin generally follow the flower pikmin, but
they can work on their own. Many caves have also changed; some
have collapsed. Others have been excavated populated
by pikmin. They have created whole villages underground. However,
since no onion can go underground, pikmin can't reproduce in caves.
But even with these advances, an unknown, dangerous force has appeared
in the ecosystem. No pikmin has seen it and come back alive. It's ravaged
many caves and its deadly presence is spreading both under and above ground.
This map is posted in every onion, cave, and tunnel: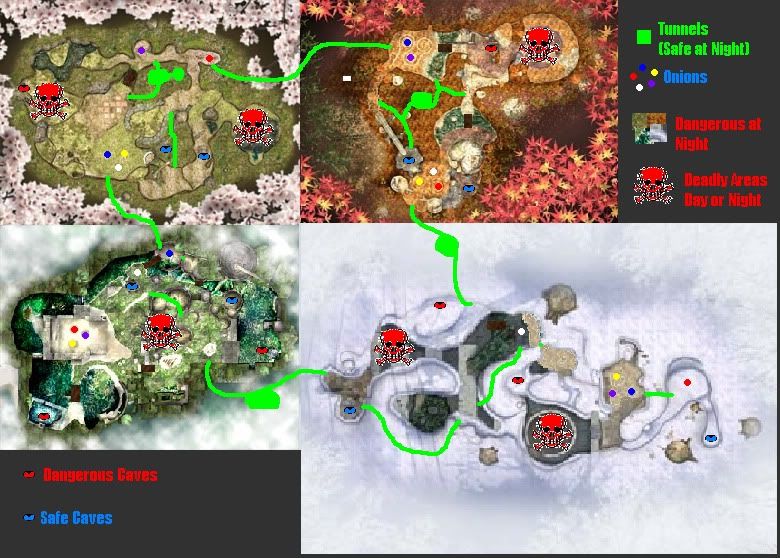 ((RP Rules:
- No god-modding/uberness
- No uber romance. Pikmin reproduce through the onions; there's no need for it.
- As long as there are more than three people in the RP, wait for at least
two people to post between your last post or wait 24 hours before you post
- Don't accomplished something that wouldn't be possible in the
game. Rule of thumb: a single pikmin can't defeat anything that can fight back.
RP Suggestions:
- You can lead or be a part of a team of NP pikmin; don't be a lone wolf.
- Pikmin can jump
- The mood of the RP is whatever you want to make it.
It could be casual, serious, or funny
- If you're a pikmaniac (like me) you must've thought of new colors; don't
create new colors in this RP (unless their
confirmed
to be in Pikmin 3)
- Questons or (constructive) comments? PM me
Character sheet:
- You can make
two
characters, a main character that only you
control; it should only die under extreme circumstances. The other
is disposable and anyone else can control. (Note: if you control someone
else's character, be consistant with the personality)
- If your character dies, don't hesitate to make another.
- Template:
Name:
Color and hue:
Leaf/Bud/Flower:
Other unique physical features:
Personality:
Bio (optional):
Post your character(s) in your first post, then go ahead and start, don't wait for my say-so))