Zach was walking down the Convention Hall to the Pokemon Corner, there he would find the preview for The Black and White game, and get the Life sized Spiritomb Stuffie he has been looking for. He spots it and runs in… He looks around to see Thirty Ash's, ten Misty's, twelve May's, fifteen Brock's, and twenty-seven Pikachu's. Compared to the one Charmander… him. He feels out of place, even though he is a pokemon… His tail drags on the ground, soiling the fake flame, he runs to the merchandise area and locates his Spiritomb, he hands over the money and takes it happily, he hands it to his mom to take to the car and she leaves the convention hall and goes home, she was tired, and fortunate… she would be the last person to leave…

Zach stood in line to get a ticket for the chance to play, he waited for what seemed like hours. He looked at his watch… five minutes…

"How on earth am I going to make it… I can't wait five minutes…" He thought aloud in total exasperation. A few moments later and the extremely loud, active convention hall seemed to fall silent for no reason… as if time itself had halted. Not a sound… and nobody dared speak in fear something might happen if the ominous silence were shattered.

Suddenly the ground shook and the air glowed a brilliant shadowy purple. The convention people shouted and ran, trampling people who fell not realizing they were doing so, in the very center right by the roof, the strange glow was moving toward it, collecting. It grew larger by the second, bigger and bigger, Zach stood there staring at it, entranced by the strange sight, it collected until all the light was in the ball. It froze for a moment, and a black, shadowy light surrounded it… then in an instant shot out in a wave going all directions.

Zach felt a blow to his chest, he flew back 30 feet into a wall, he hit his head RIGHT into the wall. He heard a loud CRACK as his skull hit the concrete of the wall, then an dull THUD as his head hit the ground, he closed his eyes, it was silent, except for the sound of crackling electricity. He felt his whole body tingling and throbbing… his mind was foggy, he couldn't think straight. He had to see what was happening, he couldn't open his eyes, everything was fading away, the electricity sounded so far off. Stay awake. He thought, don't… fall… must… not… lose… then his mind fell silent, the Convention hall went dark.

_________________


Thanks Seph!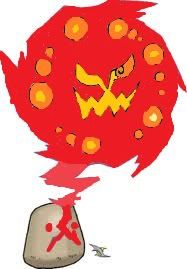 Blazer